Why Don't Radiators Come with Valves?
Radiators don't come with valves because it's actually better for you that they don't. Every household's pipework is different, as is each person's taste in interior decor. Because most radiators don't come with valves, this gives you more choice in which specific type of valve you want to match your radiators and the rest of your room.
What Does a Valve Do?
Radiator valves control the temperature of your radiator by adjusting the flow of hot water into the pipework. Valves always come in pairs:  one to adjust the amount of water entering the radiator to adjust temperature and the other to balance your system by affecting the amount of heat exiting the radiator.
In basic terms, they're just like little taps for your radiator and those taps are either referred to as manual or as thermostatic.
Manual and Thermostatic Valves, What's the Difference?
Manual Radiator Valves 
These are one of the easiest valve available to operate - you just need to twist the top with your hand and it alters the flow of heat into your radiator, just like turning a tap. Manual valves tend to be simpler and are usually far smaller than thermostatic valves. Let's take a look at some of our top picks below.

Thermostatic Radiator Valves (TRV) 
Thermostatic valves, usually known as TRV valves, feature a similar design to manual valves, except feature a sensor. While 'sensor' might sound electronic, and sure you can get electronic versions (even Wi-Fi thermostats), TRVs typically feature a more low tech design of wax or liquid which reacts to room temperature and self-regulates the radiator within a certain limit. Basically, they can save you money when used right.
Just like with the manual valve, they're always used in conjunction with a lockshield. Take a look at some of our favourite TRVs below.

Lockshield Valves 
Lockshield valves are supplied with your valve purchase. So when you buy a pair of valves, one of them will always be a lockshield. Regardless of which radiator valves you choose, the other end of your radiator will feature a lockshield valve. This is because it controls the flow of water leaving the radiator and is used to "balance" your system, which makes sure all of your radiators heat up at the same rate. 
Whatever you choose, it's essential to make sure you find out if your valves need to be straight or angled.
Straight, Angled and Corner Valves 
Valves connect your pipes and radiator together, so both the placement and the design will have an impact as to which you will require. Take a look at the table below for more detail on which valves fit with different kinds of pipework.
| | | | |
| --- | --- | --- | --- |
| Radiator | Pipes coming out of wall | Pipes coming out of floor | Pipes run exposed along wall (rare) |
| Inlets on the side / side entry | angled / corner | angled | angled |
| Inlets underneath / underside entry | angled / corner | straight | angled |
Angled Valves
Angled and corner valves are interchangeable, but have slightly different designs. If your pipes turn at an angle of 90 degrees to enter the radiator, you'll need angled valves. These are the most common type of radiator valve and are popular in many homes.
Corner Valves 
Corner valves (sometimes called flat front valves) are often a decorative choice as they don't protrude as far from your radiator as angled valves do. Acorner valve is an angled valve whose top faces inwards, parallel with the wall, rather than outwards. It can make it more awkward to adjust, depending on the placement of your radiator, but the option is there.
Straight Valves
Straight valves are needed if your pipework runs along the wall or floor with a straight body into the radiator. These valves connect the pipework either horizontally or vertically, so have no bends or curves.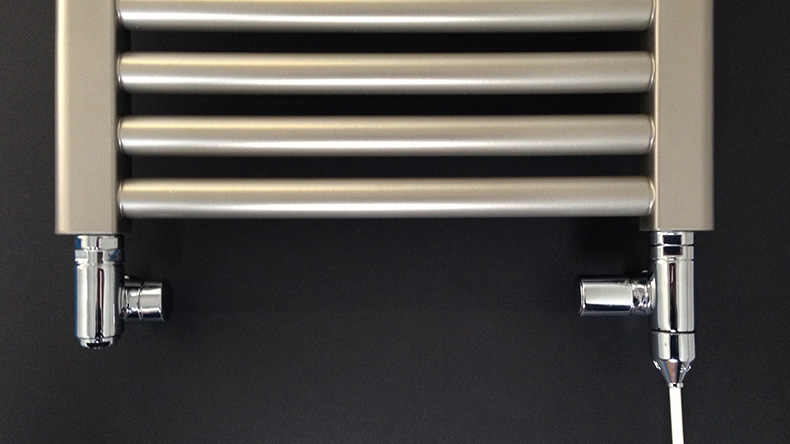 What Size Radiator Valve Do I Need?
While the overall size of each radiator valve can be dependant on the aesthetics and type (thermostatic valves are usually longer), we're going to talk about fitting sizes here. Meaning the width of the connections, measured in millimetres.
15mm valves are the only size you're likely to encounter, since 15mm copper pipes are the most common. There are also other sizes, from 8mm to 28mm, and there are accompanying adapters.
Traditional or Modern Valve Styles
Here at Only Radiators, we have a range of modern and traditional radiator valves to give you even more choice to style your radiators to your home's aesthetic.
Traditional Valves for Classic Homes
If you air on the traditional side of things, these designs may be for you. Take a look at some of our favourites and shop the full range below.

---
You should now have a better understanding of the different types of valves and which you may need for your home. For more insightful advice, DIY guides and interior inspiration, take a look at our handy blog.