Feeling the cold? Things are starting to get nippy outside so it won't be long before we're firing up the boiler and switching back on the radiators inside. And with that in mind, it's really important that you have the correct radiator size for your room - and to do that you need a radiator BTU calculator. 
Had a browse of our amazing range of radiators already? Before you reach the checkout, it's really important you cross reference the heating requirement of the space you want to heat with the output of the product to ensure you are getting the maximum efficiency from your radiator, and not wasting energy - or money on your heating bills. 
So, what does it all mean? And where do you look to find the best radiator BTU calculator? Let us explain. 
BTU - explained 
BTU stands for British Thermal Unit. It is a unit used to measure the necessary heat output from a radiator, heated towel rail or underfloor heating. Put simply, how much heat you need to keep a room at a desired temperature. 
Too little and your room will never get warm enough, but on the flip side if you have too many BTUs for your room, you'll pay for more energy than you need to. So it really is vital to get it right. 
Shape, size and type of radiator can all affect its heat output. Using a radiator BTU calculator will ensure that you make the right choice when purchasing your radiator. 
It's really important you check your BTU against the detailed product descriptions onsite so that you do not waste time and money buying the wrong radiator.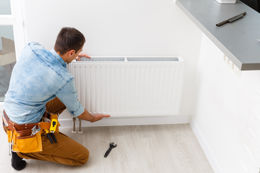 Does BTU differ per room?
In short, yes, You do need to measure the BTU requirement for every radiator you purchase in each room.
But don't worry, it's actually really simple and easy to check and we have a fantastic radiator BTU calculator tool to help you get the right heating products for the size of your room. 
All you need to do is measure the height, width and length of the room. You can do this with either a tape measure or laser measurement tool. 
Then just tell us which room, whether it has double glazed windows and whether it is sheltered or exposed and we will do the rest for you!
We'll provide your required BTU measured at Delta-T 50°C. Then just make sure you cross reference this with the radiator or heating product you are choosing to ensure it's going to be adequate. 
You have your BTU requirement, now what?
BTU figures are displayed on all our radiators, which makes it easy for you to pick the most efficient one for your home.
You can also find a style of radiator that you like such as horizontal radiators or designer radiators and then filter these by BTU on the left hand side to make sure you choose correctly in the style you love.