Relaxing in the bathroom, taking a long soak or shower is one of the most rewarding things to do after a long day. And making that space look and feel its best only adds to the whole experience. That's why choosing a bathroom radiator is so much fun! 
Most bathroom radiators these days come in the form of stylish heated towel rails, which double as a way to dry and store towels after washing. However, there are also the more traditional radiators that can feature in the bathroom, too. 
Radiators that are specifically designed for the bathroom are not just a heat source, they also add style to your room. And you can be as creative as you wish with lots of different designs, shapes and colours to choose from. 
In this article, we're going to explain the benefits of bathroom radiators and what you need to consider before buying. Then we'll take a look at the types of radiators available and show you which our experts here at Only Radiators recommend.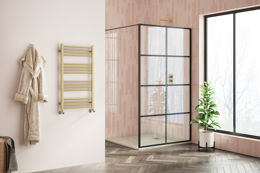 Benefits of Bathroom Radiators
Choosing to install a bathroom radiator or heated towel rail is a fantastic addition to your space. Not only do they help to keep your bathroom warm, dry and mould-free, they are also a great way to maximise your aesthetic.
Let's take a look at some of the top benefits. 
Bathroom radiators can save on space making them ideal for smaller bathrooms, cloakrooms or en suites, as well as larger rooms too. 

You can benefit from a year round heat source in your bathroom to make it super cosy. 

The warmer the surfaces are in your bathroom, the less condensation will settle, meaning less chance of damp. 

Having a bathroom radiator or towel rail will help to keep your room at an optimal temperature. 

Heated towel rails are designed to keep your towels fresh and warm, whilst providing heat across the room - perfect for when you just jump out of the shower!

With so many great styles to choose from, you can match your bathroom styling or use the radiator to add wow factor as a statement piece.
Things to Consider when Choosing a Bathroom Radiator
When deciding on a radiator for your bathroom, what do you need to consider? Ask yourself at least these 3 questions before you take the plunge.
1. What is my BTU? 
BTU stands for British Thermal Unit and is a measure of how much heat a radiator can output to increase the temperature of a room. Your BTU rating takes into consideration factors like floor space, room height and other specifics. 
But no one expects you to know this off the top of your head. That's why we've made it really easy to work out what your BTU rating is for any room, including your bathroom. Before you purchase any radiator, make sure to use our BTU calculator to find out which rating you need.
Each radiator on our site should have its heat output and BTU rating compatibility stated within the product descriptions. If you are unsure, just jump on a chat with one of the team and they'll be happy to help. 
2. Is a radiator or heated towel rail more suited for my bathroom? 
These days, heated towel rails are a much more popular choice for those who are looking to add style to their bathroom. But how do they compare with traditional radiators? 
If you have a small to medium sized space then a heated towel rail is likely to provide enough heat to keep the room warm. The beauty of this is that you have a much wider choice when it comes to design. And, with rising energy bills, a heated towel rail can be a much more economical choice. 
For those who have a larger space, the right size radiator is probably going to be more efficient in heating your room, but you may find there's still plenty of room to incorporate a heated towel rail too - so you have the best of both worlds!
If you do decide to go for a heated towel rail, then it's important to check your BTU against your chosen product to make sure there is enough to heat your room. 
Not quite sure what we're talking about with BTU yet? We explore it in more detail in our blog: Explaining the BTU Calculator.
3. Am I going to need building work? 
If you currently do not have any heat source in your bathroom, then you need to consider whether installing a radiator or towel rail is going to be a bigger job than you imagined. If you decide to have a radiator plumbed into the mains, where are you likely to get access to the pipes and does that suit your bathroom layout and where you envisaged the heat source to go? 
If you already have a radiator in place but are looking to upgrade or switch to a heated towel rail, then consider if there is enough space for you to do this? 
We'll come on to the different types of bathroom radiator next, but if you are not a confident DIYer or don't have plumbing experience, then we would always suggest asking the advice of a professional before attempting to install on your own. 
Types of Bathroom Radiators
OK, so lots to consider so far. But probably one of the biggest decisions of all, is what heating type your new bathroom radiator will use. So, let's explore what heating type your radiator can be in the bathroom. 
1. Electric
These radiators are wired into the mains and are operated by a switch just like you would switch on a light. They are easy to install and are ideal if you have a smaller space or do not have a gas supply or central heating system. 
One of the great benefits of an electric radiator in the bathroom is that you have more control over the temperature of the room - and the heating can be isolated to this radiator if you are just wanting to dry towels, for example. Plus, maintenance of an electric radiator is fuss-free - there's no need to bleed and you don't need any additional pipework fitted in order to use.
Here's some of the more popular electric radiators.
2. Central Heating 
Another option is to choose to use a central heating radiator. This will be plumbed into the mains and work just like any other radiator. 
This is the most common radiator in the home, but in the bathroom you do find more people are now opting for one of the other types as it gives them greater control and more efficiency. 
We still have a fantastic choice of central heating radiators, just like these which are ideal for the bathroom. 
3. Dual Fuel 
Finally, the dual fuel radiator, which offers greater flexibility on how you can use it. The radiator functions both with central heating and electricity, so you can decide which is the most efficient way to use it at any given time. 
For example, in the summer you may wish to switch to electricity so that you don't waste hot water by switching on all the radiators in your home, helping to save you money on your energy bills. 
Here's a look at some of our most popular dual fuel radiators for the bathroom. 
Does the size of a radiator really matter? If you have a small room, take a read of our blog: The Best Space Saving Radiators for a Small Room.  
Our experts recommend 
Now you have an idea of the type of radiator that will work best for your space - we asked our interior experts here at Only Radiators to share which products they're craving for their own bathrooms at home!
Click the link below to jump to your preferred style. 
Best for Luxury
Terma Oxford Cast Iron Freestanding Traditional Radiator
This stunning cast iron freestanding radiator from our Terma Oxford range is available in several sizes so can work in smaller or larger spaces. The raw metal finish gives off an authentic and traditional vibe whilst its cast iron construction makes it have an extremely high heat output. 
Featuring a unique design, this radiator will add style points to any bathroom. 
What our experts say: "Wow! This radiator is so unique and is going to stand proud in any bathroom. It's great to add a focal point to the room, but the exceptional heat output means you won't be waiting long for a nice and toasty room. We almost want summer to be over just to see it working at its best!"
Style rating:  4 / 5
Best for Design
Terma Swale Heated Towel Rail
If you want to take your style to the next level, then this heated towel rail from our Terma Swale collection is the perfect choice. The bending pipe design looks so unique and makes for a great statement piece of wall art as well as a radiator, too! 
You can choose this style of radiator in classic black, white or bright copper making it easy to match your aesthetic. 
What our experts say: "We just love this design in the bathroom, especially if you have a smaller space as it works as a decorative accessory on your wall, too. Who said radiators had to be boring, and with this sitting pretty on your bathroom wall, you'll be the envy of anyone who comes to visit."
Style rating:  5/5 
Best Traditional Radiator
Butler & Rose Ducher Bathroom Traditional Heated Towel Rail Radiator
This gorgeous radiator speaks to period styling with its curved white body panels, but has an industrial edge thanks to the outer chrome bars. It's the perfect choice for those who want to combine a towel rail with the look of a traditional radiator. 
Its small and compact size make it a great addition to any size room, whilst providing more heat than a standard towel rail. 
What our experts say: "This is a great choice for those who want the best of both worlds. I love how it combines the classic look of a traditional radiator with the contemporary chrome bars giving you somewhere to keep towels fresh!"
Style rating: 4/5 
Best for Small Spaces
Brenton Etna Brushed Brass Heated Ladder Towel Rail
This heated ladder rail from our Brenton Etna range has all the benefits of a traditional bathroom towel rail, but with this stunning brushed brass finish giving it extra wow factor!
It comes in three sizes so perfect if you have a small space or slim wall to fill. But there's still plenty of space to hang those towels for all the family. 
What our experts say: "This is a great all round towel rail that has a really chic brushed brass finish. The ladder design gives plenty of room for towels while the slim fit makes it great for small spaces. We think this would suit pretty much any bathroom space!"
Style rating 4 /5 
Best for Larger Rooms
Brenton Suva Metallic Heated Towel Rail
Got a larger space? Just because your room is bigger doesn't always mean you want a chunky radiator in your bathroom.
We love this Brenton Suva Metallic towel rail which appears large in size for a great heat output, but still super sleek when mounted to the wall. 
What our experts say: "This is a beautiful towel rail with a really calming, yet striking appearance. Great to fit on a feature wall with plenty of space for towels and great heat output to boot!"
Style rating: 4 /5 
We hope you've got a clearer idea of which radiators are best for bathrooms and which style you'd prefer for your own space. If you have any further questions, you can always ask our friendly team. Simply navigate to the Help Hub and get in touch. Ready to buy? Browse our bathroom radiators and enjoy free delivery to most of the UK as well as next day delivery on many items.