Can radiators be stylish? Yes they can! In fact, there are so many options on the market these days that it's hard not to up your heating game. And whether you're on the lookout for a new radiator or just want to spice things up a bit then we have some really great stylish radiators to choose from. 
Our Senior Design Consultant, Samantha Lawson, told us: "it's really easy to move away from traditional radiator shapes if that's what you are looking for. Striking finishes, vibrant colours and three-dimensional shapes are all very popular in interior design. 
"With a stylish radiator you can combine function with style, achieving a warm and cosy room while enhancing your home's decor."
We asked Samantha to recommend her top stylish radiators below to help you find the right one for you and your home.
1. Designer radiators 
Designer radiators have become increasingly popular. They combine striking shapes, details and colours to create a product that heats your home but also adds an element of art and design. 
Samantha says: "Some of our favourite designer radiators do not look like a traditional radiator - but that's the point. They double as an accessory to the room complementing your aesthetic."
Within our designer radiator range you'll find freestanding radiators that mirror sculpture, curved and even hexagonal shapes. 
2. Underfloor heating
When it comes to efficiency, underfloor heating is one of the best - and affordable - solutions despite it often being associated with costly installation. But luxury it definitely is. And once you have it, you'll wonder why you didn't do it sooner. 
Samantha says: "There's a common misconception that underfloor heating is reserved for high end properties and expensive luxury, but it's actually a fantastic addition to any home. And the initial installation and ongoing running costs are great value for money."
Underfloor heating is not just about keeping the floor nice and cosy to walk on although that's a huge plus! It offers unrivalled insulation in your flooring which contributes to better energy efficiency overall.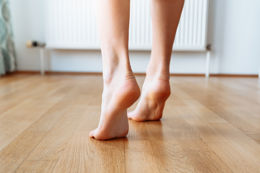 Oh and did we mention that when combined with a smart or timed thermostat you can programme your heating to come on when you want? And that also gives you the luxury of zone control - so you only heat the flooring in the rooms you're using. 
Need more help on whether you should choose radiators or underfloor heating? Check out our handy Buying Guide: Underfloor Heating Systems Or Radiators?
3. A golden glow 
Let's step inside your bathroom and if you're craving that morning glow, you can happily satisfy that with one of these brass and gold heated towel rails. An Insta-worthy addition to your bathroom that will not only heat your towels to perfection but bring you joy every time you step out of the shower. 
Samantha says: "There's so much to love about this golden finish in the bathroom - and it really adds a modern edge to any size space. With lots of styles and sizes to choose from, it's an upgrade that all of us can enjoy."
Brighten up your day and jump on the trend for a regal touch of gold in your bathroom.
4. Make an entrance 
A stylish radiator is the perfect way to make the entrance of your home pop. And whether you decide to wow with colour, dazzle with design or just improve your heating, you will be spoilt for choice. 
Samantha says: "Enhancing your hallway with a feature radiator makes a home more inviting right from the get-go. You're setting the scene for your aesthetic, but also providing such a welcome heat boost as soon as you enter from a blustery cold winter's day!" 
Choosing a stylish hallway radiator rather than a more traditional colour and shape gives it purpose all year round, too. Looking great in summer, and keeping us cosy in winter! 
Here's our pick for your hallway or entrance: 
5. Stainless steel radiators 
No time to clean radiators? We hear you. Say hello to the stunning addition of stainless steel radiators requiring minimal maintenance. But that's not what all the fuss is about, in fact, stainless steel has been catching the eye of interior designers for a while now.
Samantha explains: "Stainless steel is an interior designer's dream. Its durability, sustainability and overall aesthetic makes it the perfect material for features throughout the home - inside and out. Stainless steel radiators combine that contemporary elegance with a product that's going to last a lifetime thanks to its anti-corrosive, anti-rust and anti-stain properties." 
So there's really not much else to say other than we see big things for these radiators in the future. And we believe that they are going to become the go-to for all types of homes, especially as we all consider how to be more energy efficient. 
We love to see a stainless steel radiator against a naked brick wall for that industrial vibe, but with all sizes and shapes coming through, the versatility of this radiator is amazing!
Take a look at these:
6. Vertical radiators 
If you're looking for a space saving solution then vertical radiators offer an ideal solution while offering plenty of choice to experiment with style. 
Samantha adds: "If space is limited then vertical radiators are great as they still produce a good heat output and fit to most wall space. However, one single vertical radiator may not be enough for larger spaces." 
Opting for a vertical or tall radiator means tapping into cutting-edge technology so you can guarantee they are designed with efficiency in mind. Plus, they really do look great and add so much to your space besides heating! 
7. Orange is the new black 
Colours are expected to stay vibrant and bold albeit friendly next year with Livingetc highlighting "Hermes Orange" as a key shade for interiors.
Fancy a pop of colour? Then why not get yourself bang on trend by incorporating one of our snazzy orange radiators!
Samantha says: "With bold colours looking prominent in interior design again next year along with more neutral and muted shades, choosing colour pops across the home has never been trendier. What better way than with a flash of orange in your kitchen or hallway!"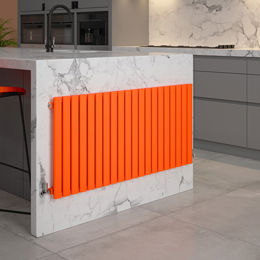 A final word from our fabulous Senior Design Consultant, Samantha: "The great thing about interior design is there really are no limits and we encourage all our customers to follow their hearts and create a home they've always dreamed of." 
We hope that's given you enough ideas to help you choose the perfect stylish radiator for your home. Browse all of our radiators or shop by type by choosing from the handy navigation at the left hand side of the screen.